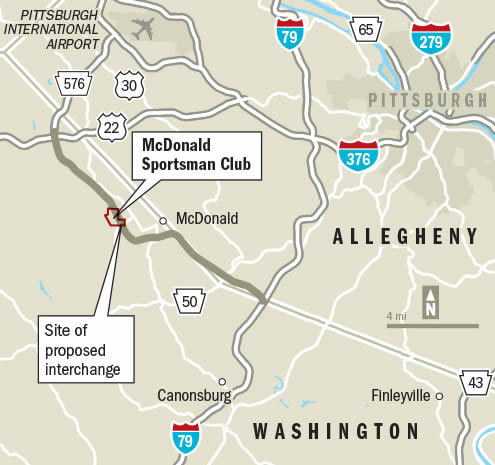 The Pennsylvania Turnpike Commission condemned 70.9 acres through a 240 acre sportsman's club. The Turnpike paid $1,750,000 for property damages and no funds for relocation damages. Faherty Law Firm provided representation and obtained a settelement for an additional $5,000,000 in total damages.
Turnpike buys gun club land near near McDonald for $5 million
The Pennsylvania Turnpike Commission has acquired a key piece of property to allow the construction of an interchange on the Southern Beltway — and protect the safety of motorists.
But it came at a hefty price: $5 million.
That's the amount the commission agreed to pay last week to buy 70.9 acres of land from the McDonald Sportsmen's Association, leaving the association 168.4 acres of property off of Cooks Road between McDonald and Midway, Washington County.
The commission needs the land to build interchange 11 on the $800 million, 13-mile toll road that will link Route 22 to Interstate 79 on the Allegheny-Washington County border. That interchange will be on the northeast corner of land formerly owned by the association and will include construction of access roads from Route 980 to the north and Noblestown Road to the south.
Jeanmarie McLaughlin, the commission's assistant counsel, said the property was among the last and most expensive pieces of land the commission has had to acquire for the project. Several factors besides the amount of property were at play in the cost, she said, among them activities the association conducts on that part of the property and the need to protect motorists who will use the new highway from activities on the shooting ranges at the association.
"The settlement amount includes more than the price of the land," Ms. McLaughlin said. "In order for us to get them back to whole, we needed to pay for the activities they lost as a result of taking the land."
Ms. McLaughlin said it was "a challenge" to reach an agreement that provided the land the turnpike needed, allowed the association to continue its programs and protect motorists.
"We're not taking any of their buildings, but we are impacting their ranges," she said. "They were very involved from the beginning to make sure they could continue their activities. That was especially important that them continuing their activities would continue to be safe for everybody."
The association offers a variety of shooting ranges and training programs, including nighttime skeet shooting, but it isn't clear which activities occur on the land acquired by the turnpike commission. Association President Bernie Dhans referred questions about the sale and changes the club will have to make to Harrisburg attorney Mike Faherty, who declined comment.
With this purchase, the commission has purchased just over 300 properties for the Southern Beltway at a cost of about $68 million.
Parts of the highway are under construction but none of it will open until all of it is complete in early 2021.
Written by: Ed Blazina | Pittsburgh Post-Gazette