Property owners should be aware of the Williams Company application for the Atlantic Sunrise pipeline. Owners should also be aware that as of now the company does not have eminent domain power. Company financial offers may be deceptive by failing to pay damages for land outside the easement areas.
Williams submits application for Atlantic Sunrise pipeline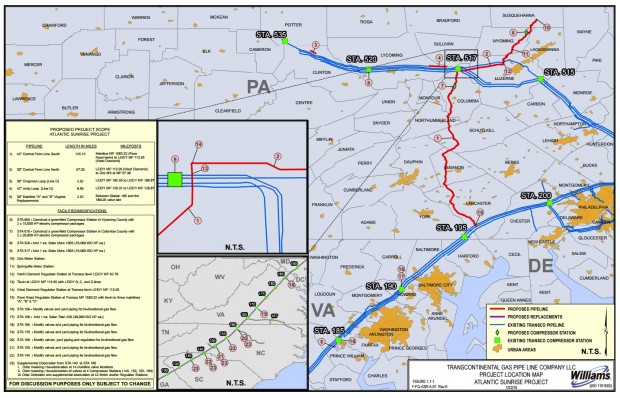 Published in: stateimpact.npr.org/March 31, 2015
By Marie Cusick
Tulsa, Oklahoma-based Williams has filed a formal application with federal regulators to construct nearly 200 miles of a new interstate natural gas pipeline in Pennsylvania.
The Atlantic Sunrise project is designed to carry Marcellus Shale gas from northeastern Pennsylvania to markets along the eastern seaboard, including the Cove Point export terminal on the Chesapeake Bay. Williams began the pre-filing phase of the project more than a year ago and has made major changes to the proposed route in response to public feedback.
It's one of many major pipeline projects underway to Pennsylvania, as the glut of shale gas has strained the capacity of existing infrastructure. If approved, the pipeline would cross 10 counties: Columbia, Lancaster, Lebanon, Luzerne, Northumberland, Schuylkill, Susquehanna, Wyoming, Clinton and Lycoming.
"The construction and operation of the proposed facilities will not have a significant impact on human health or the environment," the company wrote in its filing. "The public benefits of the project are far more substantial than the potential adverse effects.
Williams has asked the Federal Energy Regulatory Commission (FERC) to approve the project by April 2016, so it can meet its in-service target of July 2017.
The company has included updated maps of the proposed route in its filing. Read it here, by searching docket number CP15-138.