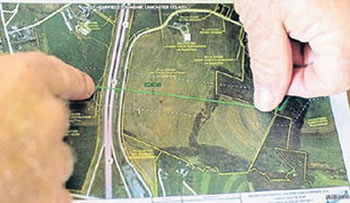 The Williams Company proposal of the Atlantic Sunrise pipeline has been challenged by a lawsuit in Philadelphia. The timing of the progression of the lawsuit is uncertain. Williams Company hopes to have approval by the Federal Energy Regulatory Commission in October.
Group sues to derail pipeline
The Delaware Riverkeeper Network says a gas line that would run through 10 counties would violate the Clean Water Act.
Written by: Colin Deppen | Patriot News
After overcoming a series of regulatory hurdles, the Atlantic Sunrise Pipeline project has been dealt a potential setback as a lawsuit challenges its legality and that of its newly issued permits.
In the suit filed in the Third Circuit Court of Appeals in Philadelphia, the Delaware Riverkeeper Network of Bristol challenges state water-quality permits issued by the Department of Environmental Protection for the 200mile, 10-county, $2.6 billion natural gas pipeline project.
The group claims the project and water-quality plan would violate the federal Clean Water Act.
Maya van Rossum, a spokeswoman for the network, said the project would affect more than 4,100 acres and cross 333 bodies of water and 250 wetlands statewide.
Joining in the challenge is the Lancaster Against Pipelines group, which filed a petition to secure a "review of an agency order" with the court and which filed a notice of appeal with the Pennsylvania Environmental Hearing Board, both concerning DEP's issuance of water-quality certificates for the pipeline project.
The group claims to represent hundreds of residents who are "directly affected by this destructive proposal," saying its members are committed to "keeping the Atlantic Sunrise Pipeline out of Lancaster County as it represents a massive violation of our communities, natural environment and rights under the PA Constitution." Spokesmen from LAP could not be reached for comment, while the pipeline's builders, Williams/ Transco, refused to comment about pending or ongoing litigation.
Chris Stockton, a Williams representative, said the company has changed half of the pipeline's proposed route based on the feedback of stakeholders and regulators.
But the project continues to be contentious, particularly in Lancaster and Lebanon counties, where some landowners refuse to grant access to their properties and where increasingly well-organized opposition has succeeded in fomenting public resistance, much of it around the issue of eminent domain. Environmental concerns dominate the legal discussion, but private issues related to economics and property value remain in play.
Groups such as LAP and Lebanon Pipeline Awareness have been at the forefront of the public advocacy effort, and as LAP's Mark Clatterbuck said, about 40 property owners continue to resist the project in Lancaster County.
But the project continues to collect approvals from regulatory agencies such as DEP and the Federal Energy Regulatory Commission, which recently released a draft environmental impact statement on it. In what amounts to preliminary federal approval of the project, FERC found the pipeline's expected "adverse environmental impacts" would be "less than significant" after mitigation measures.
Stockton said barring any unforeseen developments, final approval from FERC could come as soon as October, with a January deadline for all other related permits and approvals. Under that timeline, the project could be underway as soon as mid-2017.
Groups such as LAP and the Delaware Riverkeeper Network hope to prevent that from happening, but they recognize the inherent difficulties.
"The number one thing is money. Money is hard and we don't have it. They [the pipeline builders] do," Ann Pinca of Lebanon Pipeline Awareness said in March. "… As a 501(c)3 [tax-exempt group] we are now able to get some small grants, but that takes time."
The Atlantic Sunrise Pipeline would bisect Lancaster County and parts of nine other counties to carry hydraulically fracked natural gas from the Marcellus Shale region to the Eastern Seaboard, most of it for export, LAP reports.
FOSSIL-FUEL PROTESTERS RALLY AT PHILLY ENERGY CONFABS
A group of Pennsylvania residents formed a human pipeline in an attempt to disrupt energy industry conferences at a Philadelphia hotel this week.
Organizers called the protest a method to drive home a pro-renewable-energy message. Protesters used their bodies and industrial tubing to form the "pipeline," which spanned the lobby of a Penn's Landing hotel during two energy industry conferences.
"We are telling these industries that Philadelphia wants clean energy, not the fossil fuels that are making Philadelphia the asthma capital of the Northeast, poisoning our drinking water, scarring our state with pipelines and destroying our planet," said Elizabeth Arnold of EDGE, Encouraging Development of a Green Economy.
The Hilton Philadelphia is hosting two conferences this week: the Natural Gas for Power Generation summit and the Association of Energy Services Professionals spring conference.
The chairman of the NGPG summit is Michael Krancer, who served as secretary of environmental protection before returning to private practice as an energy lawyer.