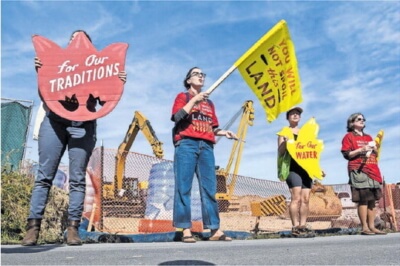 Environmental groups were able to convince a Federal Court to stop construction while environmental concerns were considered. The U.S. Court of Appeals for the District of Columbia ended the stay. This allows construction to be restarted.
ATLANTIC SUNRISE
Pipeline construction to resume as federal court dissolves stay
Construction of the Atlantic Sunrise natural gas pipeline will resume today.
That was the comment from Williams Partners on Wednesday night after the U.S. Court of Appeals for the District of Columbia dissolved the administrative stay it had issued Monday.
The court's one-page order states the seven environmental groups that wanted to stop the pipeline project had not satisfied the stringent requirements for a stay.
A three-judge panel had issued it saying the court needed time to review the environmental organizations' contention the Federal Energy Regulatory Commission's review of the project did not meet the standard for evaluating greenhouse-gas emissions.
The groups, which included Concerned Citizens of Lebanon County, Lancaster Against Pipelines, Lebanon Pipe Awareness and the Sierra Club also claimed completion of the pipeline would encourage more drilling for natural gas.
"We are pleased the court has lifted the administrative stay," Williams said in a statement.
"We will promptly resume construction activities on this important pipeline project, which will leverage existing energy infrastructure to deliver economic growth and help millions of Americans gain access to affordable Pennsylvania-produced clean-burning natural gas.
"Thousands of workers in Pennsylvania will be back on the job (today)." The stay had stopped all construction activity on the pipeline in Pennsylvania.
Issues raised in motions to dismiss the stay were factors in the court's decision, to dissolve it, the ruling stated.
FERC was among those opposing the stay, claiming it was overbroad.
Williams, based in Tulsa, Oklahoma, contended the stay was unwarranted because FERC undertook a nearly four-year extensive review of the project before issuing a certificate of public convenience in February. Williams' subsidy, Transcontinental Gas Pipeline, then obtained the required permits from the state Department of Environmental Protection and began construction of 186 miles of pipeline in Pennsylvania on Sept. 17.
The nearly $3 billion Atlantic Sunrise project will increase the amount of Marcellus Shale gas that can be transported into the South. The pipeline will cross 10 Pennsylvania counties including Lancaster and Lebanon.
The project includes revising piping in six compressor stations in Maryland, Virginia and North Carolina to permit natural gas to flow in both directions. Earlier Wednesday, the appeals court clarified its stay order saying it applied to construction activities only in Pennsylvania.
Written by: John Beauge | PennLive
Photo captyion: Lancaster Against Pipelines protesters block a construction entrance near Columbia, Lancaster County, last month. 2017 PennLive file photo