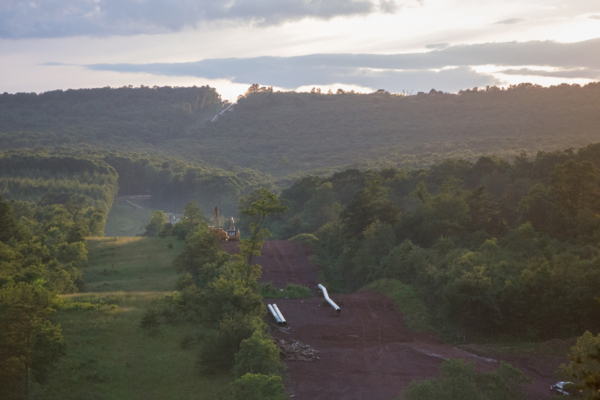 Recent construction spills and contaminated water has resulted in a U.S. Congress request for a FERC investigation. In the interim, a Pennsylvania Environmental Board hearing which was scheduled for August 7 was postponed to August 9 while negotiations progress concerning the order to halt horizontal drilling.
Democratic lawmakers ask FERC to investigate Mariner East 2 pipeline builder
Two ranking Democrats in Congress have asked the Federal Energy Regulatory Commission (FERC), to further investigate the practices of pipeline builder Energy Transfer Partners, which has merged with Sunoco Logistics, after spills and permit violations occurred on two of its major projects in three different states, including the Mariner East 2 pipeline here in Pennsylvania.
In a letter to FERC last Thursday, Congressman Frank Pallone Jr., and Washington state Senator Maria Cantwell, detail recent spills in Ohio, West Virginia and Pennsylvania, and criticize the company for misleading regulators by destroying an historic home in Ohio. StateImpact reported recently on a judge ordering ETP/Sunoco to stop construction on a valve station in West Goshen Township, where the company began building a valve station at a location the township had not agreed to.
We first heard about problems with Chester County water July 4th weekend, when we got several emails telling us construction of the Mariner East 2 pipeline had polluted well water. When we went to check it out and knock on doors in West Whiteland Township, we found David Mano, and his fiancé Dianne Salter in their backyard pool.
Mano says he didn't even know about the pipeline construction until a neighbor called and told him to check his well water.
"Which I did Wednesday evening when I came home, and my water was light brown, full of sediment," he said.
Sunoco, which recently merged with Energy Transfer Partners, is building the more than $2.5 billion dollar pipeline to carry natural gas liquids from the Marcellus Shale fields to an export terminal in Marcus Hook, Delaware County. The company is also building other pipelines across the country, including the Dakota Access pipeline, which native Americans opposed.
The Mariner East 2 is controversial primarily because the state Public Utility Commission allowed the company to take land through eminent domain, which so far has been backed by the courts. Despite pending lawsuits, protests and petitions, construction began in February.
Township officials said the water problems in Mano's neighborhood of West Whiteland Township were caused by drilling mud, which leaked into the aquifer supplying his well. The company says it's a non-toxic clay slurry called bentonite, which is often used in things like kitty litter and make-up.
It may be non-toxic but Mano says, he's not drinking it.
"Ok, so you want me to drink cat litter and women's foundation make-up in my water? I don't think so."
Drilling mud in large quantities can plug up an aquifer. It can also smother aquatic life if it gets into streams and wetlands.
Sunoco responded quickly, delivering water to residents and putting them up in hotels. They tested the well water.
Township officials said Sunoco told them the problem should clear up in a week or two. But a few days later, on July 11, Sunoco offered to pay the costs to hook up the 15 to 30 impacted households to public water supply.
At a public meeting in West Whiteland Township two days later, Sunoco said their preliminary tests showed no toxins in the water. Company officials also said the tests didn't find bentonite clay. Still, some residents wells had dried up. The company said it would halt construction at the site temporarily. Jeff Shields is Sunoco's spokesman.
"It's important to us to have decent relationships with our neighbors," said Shields. "We're impacting their lives we understand that. Just by construction we're impacting their lives. So take that extra step when their well water is impacted we need to do something and we are."
But at the meeting several residents who had not previously known about the pipeline, expressed fears that once it's built there would be safety risks. The highly explosive natural gas liquids become a colorless odorless gas when in contact with air.
Dianne Salter, a resident with impacted well water, said that's what really scares her, more than the water.
"So it's really a fear of an explosion, If it does leak on our neighbor's lawn and they don't recognize that cloud or fog on the ground, one lady smokes, she drives by and throws her cigarette out the window, we're goners, we're gone."
Sunoco says their pipelines are safe. But an investigation by Reuters found it to have the worst safety record of any pipeline company.
The day after the meeting in West Whiteland, July 14, several state lawmakers asked the DEP to halt drilling or construction along the 350-mile long route, including state Senator Andy Dinniman.
"What we cannot understand and what we reject is the fact that the state and the pipeline companies have not proceeded to do this in a way to protect our health and safety and our environment," Dinniman said.
On Thursday, July 20, one week later, Governor Wolf responded to Dinniman and other critics by issuing a statement that DEP should use its authority to hold Sunoco accountable.
On Friday, July 21 the DEP published a list of 49 drilling spills that occurred across the state since May. It was ten days after StateImpact had originally asked the Department for the list.
One spill included 160,000 gallons into a world class trout stream in Cumberland County. Another included 20,000 gallons into a Trout stream in Westmoreland County.
The DEP had issued 4 violations, and one fine.
Then Tuesday, July 25, an Environmental Hearing Board judge ordered Sunoco to halt drilling in 55 locations. On Friday, the judge allowed pipeline drilling in 3 locations for safety reasons. The judge was responding to a motion by the Clean Air Council, which is appealing the construction permits issued to Sunoco by DEP back in February.
The lawsuit claims the permits were incomplete, and did not provide assurance that Sunoco would build the pipeline while protecting the environment. Previous efforts to halt construction by the plaintiffs had failed.
David Mano, from West Whiteland Township, wished the shut down would have been sooner.
"How could they have let this happen to begin with and have all these issues, all the way down the pipeline and basically all the politicians everybody just turned their back and let Sunoco have their will," he said.
On Monday, we learned from the Clean Air Council, that the documents from DEP obtained through litigation showed 90 spills in 61 locations.
Energy Transfer Partners, which is now one and the same with Sunoco, has also had problems in other states. West Virginia's DEP shut down operations due to similar water contamination incidents with the Rover pipeline. And the Federal Energy Regulatory Commission shut down construction in Ohio after 2 million gallons of drilling mud spilled into a wetland last April during construction.
FERC actually doesn't have jurisdiction over the Mariner East 2 pipeline, but the spills added emphasis to the congressional letter.
In the letter to FERC, Congressman Pallone and Senator Cantwell asked FERC to investigate Energy Transfer Partners/Sunoco because "all of these issues raise serious concerns."
A spokesman for the Rover Pipeline, Alexis Daniel, said in a statement that ETP has fully cooperated with state and federal regulators.
"We have maintained an unwavering commitment to the safe construction and operation of our pipelines to ensure the safety of our employees, the safety of the environment and the safety of those who live and work in the communities in which we do business," wrote Daniel.
Sunoco spokesman Jeff Shields, says the cause of the problems in West Whiteland Township are not thought to be drilling mud.
"Instead, it appears the drill caused water to temporarily drain from the aquifer, and the lowered water table caused people to lose water pressure and/or the low water level stirred up sediment from the bottom of their wells, hence the cloudy water," wrote Shields in an email. "So the issue in West Whiteland was caused by the drill itself, not by the drilling mud, at least according to the evidence we have seen."
Jon Hurdle contributed to this report.
This piece was updated with a statement from ETP, and a new explanation from Sunoco on how the well water became muddy.
Correction: An earlier version of this piece said Sunoco told us the cause was drilling mud, it was township officials who told us this.
Written by: Susan Phillips | StateImpact Pennsylvania
Photo: Lindsay Lazarski / WHYY
Photo caption: Construction of the Mariner East 2 pipeline in Huntingdon County, Pennsylvania.