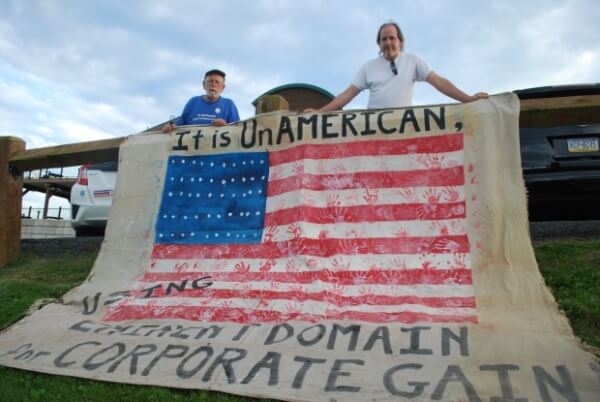 In August of 2017 the Federal Energy Regulatory Commission returned to an adequate number of Commissioners to act on pipeline proposals. FERC is widely expected to soon approve the 120 mile long PennEast pipeline from Luzerne County, Pennsylvania to Mercer County, New Jersey. Property owners who refused negotiations may soon be faced with condemnation of pipeline easements.
PennEast pipeline set for FERC approval after Senate confirms new commissioners
The Federal Energy Regulatory Commission is likely to issue its final approval to the controversial PennEast Pipeline project through Pennsylvania and New Jersey now that it has a quorum of commissioners for the first time since February, observers said on Friday.
The top federal regulator of interstate pipelines is expected to issue a Certificate of Public Convenience and Necessity to the project this summer, allowing it to use eminent domain to take land for construction from landowners who have refused its offers of compensation.
FERC has a quorum now that the U.S. Senate approved two of President Trump's nominations Thursday. Robert Powelson, a member of Pennsylvania's Public Utility Commission, and Neil Chatterjee, an energy advisor to Senate Majority Leader Mitch McConnell, will serve on the panel.
Their confirmation is expected to allow FERC to resume its reviews of permit applications for PennEast and other pipelines. The commission almost always approves such proposals, leading the agency's critics to call it a "rubber stamp" for the fossil fuel industry.
"We have no reason to believe that their approval of pipelines will be any different now than it has been under previous quorums," said Kathryn Urbanowicz, a staff attorney with the environmental group Clean Air Council in Philadelphia, which opposes PennEast.
She said FERC may issue the certificate soon, since that action usually quickly follows the agency's final environmental impact statement, which it issued to PennEast in April, saying the project would have "less than significant" environmental impact.
Mary O'Driscoll, a spokeswoman for FERC, said she didn't know when the commission would consider the PennEast application. She declined to respond to renewed claims that FERC is historically biased toward the fossil fuel industry.
The PennEast Pipeline company, which has said it expects to receive the certificate this summer, welcomed the Senate's approval of the new commissioners.
"We are heartened to finally see Senate action on restoring a quorum to FERC to now consider important infrastructure projects across the country, including final approval of the PennEast Pipeline Project," said Dat Tran, chairman of the PennEast board, in a statement. "We are confident in our application to deliver clean-burning, low-cost American energy to families and businesses throughout the region for decades to come."
The Energy Equipment and Infrastructure Alliance, a trade group that lobbied for the FERC confirmations, also welcomed the Senate's approval, and urged the commission to immediately begin consideration of applications such as PennEast's.
"This is a win for workers across the energy supply chain, and every American that benefits from access to affordable energy," said Toby Mack, President of EEIA, in a statement. "This is a step in the right direction to creating jobs, growing our economy and making America stronger."
If finally approved by FERC and other state and federal regulators, PennEast will carry natural gas from the Marcellus Shale in Luzerne County, Pa. about 120 miles to Mercer County, N.J. The project has encountered strong resistance from communities along the route, and from environmental groups who say it is an unnecessary pipeline that will fragment forests, threaten waterways and encourage the production of climate-warming fossil fuels.
Even with the expected FERC approval, the pipeline requires more permits from New Jersey, Pennsylvania, the U.S. Army Corps of Engineers, and the Delaware River Basin Commission, an interstate regulator which plans to hold public hearings on the project but has yet to schedule them, said Clarke Rupert, a spokesman for DRBC.
In June, New Jersey's Department of Environmental Protection rejected PennEast's application for a water-quality permit on the grounds that the company had failed for the second time in two months to submit all the required information. The company said it would reapply.
Critics of PennEast include the environmental group Delaware Riverkeeper Network which unsuccessfully sued FERC in 2016, alleging that the agency's policy was biased toward the pipeline industry.
DRN's head, Maya van Rossum, said Friday that whether the pipeline is built is likely to depend on regulators other than FERC. She said FERC has denied only one pipeline project in 30 years. FERC's O'Driscoll would not confirm or deny that assertion.
"Thankfully, nobody has been counting on FERC to do the right thing and say 'no' to PennEast," van Rossum said. "We always knew it would come down to these other agencies."
She said FERC's likely approval won't deflect opposition. "The community is not going to take this lightly. There is still a lot of fight left and opportunity to defeat this project."
Lynda Farrell, executive director of the Pennsylvania-based Pipeline Safety Coalition, predicted that FERC will come under renewed pressure from both sides of the PennEast debate now that it has a quorum.
"I'm sure that all pipeline operators are breathing a sigh of relief as pipeline opposition groups are rolling up their sleeves," she said. "The commission is going to be pressured by operators for fast-tracking."
Story written by: By Jon Hurdle | StateImpact Pennsylvania
Photo by: Jon Hurdle / StateImpact PA
Photo Caption: Roy Christman (left) and William Kellner, protested plans to build the PennEast natural gas pipeline, at a FERC 'listening session' near Jim Thorpe, Pa. in 2016