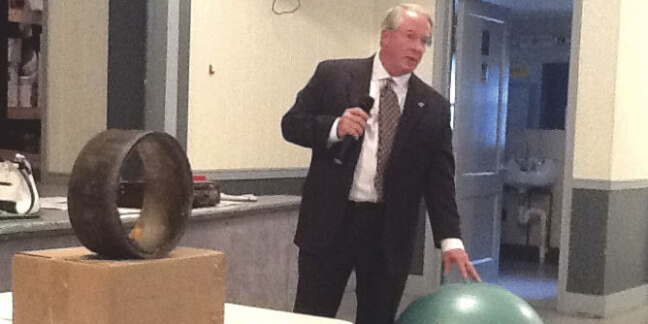 Attorney Michael Faherty uses an exercise ball to illustrate the diameter of the proposed Sunbury Pipeline. On the table is a piece of an eight-inch main pipe.
Lawyer: Know your gas pipeline rights
By Evamarie Socha/The Daily Item
Real estate property values are very subjective, he said. "Your rights are much more valuable than they'd have you believe," and the harm that can come from an explosion or leak "could be greater than what (the gas company) is offering. "What's in writing counts," Faherty said; that is among things settled in an eminent domain negotiation. To that end, Faherty's advice was be careful, and get a lawyer
UGI Sunbury officials have been advising the same thing, said spokesman Ken Robinson. "We've told people: get a lawyer, make sure you know what you're doing and what your rights are," not just because it's the right thing to do but because UGI also is part of the communities where the pipeline will run.
"UGI Sunbury has gone out of its way to be as open and available to the property owners as it can be," Robinson said. It has set up information systems to field questions that has delivered answers to people within 24 hours. "We feel better about this knowing what we know," he said. "The company has gone out of its way to be open and available, and frankly to characterize it as anything else is unfair."
While giving a nod to environmental advocates who want to organize and defeat the pipeline project, "to my knowledge, those efforts never succeed," Faherty said, especially with the Federal Energy Regulatory Commission, which ultimately will approve or reject the project. "I expect the Sunbury Pipeline will be approved," he said. "You need an advocate; get someone. Your rights are different than what you are being told."
Faherty's own compensation is one-third of the increased monetary agreement over the original offer made to a property owner, he said. A list of "pipeline settlements" Faherty provided show he has obtained hundreds of thousands of dollars for easement agreements and specific individual terms for his clients.