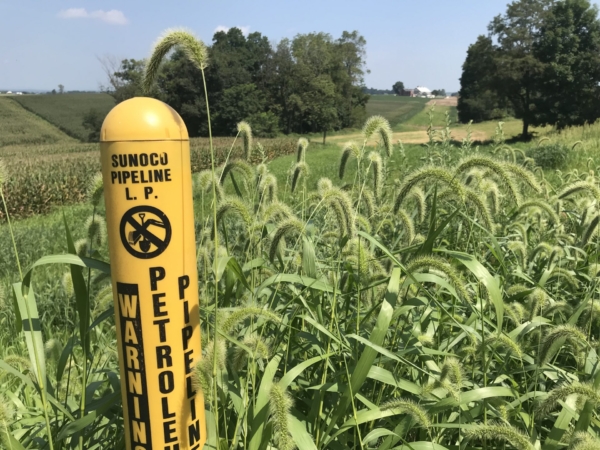 On 9/10/18 a natural gas pipeline west of Pittsburgh exploded. One home, approximately 500 feet from the 24 inch pipeline, was destroyed. The explosion and fire exemplify the risks to life and property.
Natural gas pipeline blast in Beaver County prompts evacuation
An Energy Transfer Partners pipeline exploded this morning, destroying one home, no injuries reported
Beaver County resident Chuck Belczyk, who lives across the street from where a natural gas pipeline exploded Monday morning, shot this video of the resulting fire.
A meteor, a plane crash, a helicopter. That's how residents of a quiet street in western Pennsylvania described an explosion along a brand new natural gas pipeline in the woods behind their homes.
The fire shot up 150 feet in the air, damaged power lines, and sent neighbors scrambling out of their homes.
Authorities said the explosion occurred shortly before 5 a.m. near Ivy Lane in Center Township, Beaver County. It destroyed one home about 500 feet from where the blast occurred, prompted evacuations of others and closed an interstate. Officials said two garages, a barn and several vehicles were also destroyed by fires stemming from the explosion, but crews in the town 35 miles west of Pittsburgh said they were able to move several horses to safety.
One resident of Ivy Lane said the one destroyed home belonged to his neighbors, Sam and Joyce Rosati. Tom Demarco said the couple escaped with a young relative staying with them before the fire destroyed their home.
"They barely got out," Demarco said. "The wind was pushing (the fire) towards (their) house. And, man it was ugly. It was darn ugly."
Officials evacuated 25 homes, but let residents back in around 3 p.m. Monday.
Chuck Belczyk said his first thought was that a jet airplane had crashed, but then he heard a hissing sound.
"And that's when it all hit us what was happening…you knew the pipeline went," said Belczyk, whose home was one of the 25 evacuated.
"We looked out the window. It was like 12 noon. It was a ball of fire."
Belczyk's wife, Eve Lemire, described a scramble to gather what possessions the couple could take with them in the few minutes they had to evacuate. The couple tried to get their four cats inside pet carriers but couldn't so they had to leave them in the home.
"I don't sleep with my wedding rings on, so I went back and I took my rings," Lemire said. "Then we left. We took nothing."
Pipeline operator Energy Transfer Partners says the line was a 24-inch natural gas gathering line called the Revolution pipeline. Gathering lines typically transfer gas from wellheads to a larger transmission line.
The 100-mile long Revolution line was built to feed two major ETP pipelines, the Rover pipeline and the Mariner East 2 natural gas liquids line. (Sunoco, which is building the Mariner East 2 pipeline, merged with ETP in 2017). The company said the explosion was detected by its monitoring system. Valves were closed, and by 7 a.m., the fire had burned out, according to Alexis Daniel, a spokesperson for Energy Transfer Partners.
"There were no injuries and the area is secure," Daniel wrote in an email. "All of the appropriate regulatory notifications have been made. An initial site assessment reveals evidence of a landslide in the vicinity of the pipeline."
The Revolution line originates in northern Butler County, and began operating on Sept. 3. Both the Rover and the Mariner East 2 lines have been delayed by construction mishaps and environmental violations. The company completed construction on the Revolution line in February, but at the time officials said they were waiting for the completion of the Rover and Mariner East 2 to put it into operation.
Center Township police chief Barry Kramer said he will be asking questions about the safety of the line.
"We will be diligent on holding people's feet to the fire," Kramer said, referring to "the future of the line, the safety of the line, and why did this happen."
Kramer said the explosion felled electric power lines. The Central Valley school district canceled classes. Interstate 376 was closed for several hours due to danger from falling power lines.
Pipeline critics have decried ETP/Sunoco's track record in building and operating pipelines.
"It appears that ETP in Pennsylvania is following Sunoco's history as one of the worst operators in the country for safety," said Lynda Farrell, director of the Pipeline Safety Coalition.
Federal data shows Sunoco Pipeline itself has the industry's second-highest number of incidents self-reported to federal inspectors over the last 12 years, and the fourth-largest number of federal enforcement actions.
Data from the Pipeline and Hazardous Materials Safety Administration shows Sunoco Pipeline reported 298 incidents from hazardous liquid, gas transmission and/or gas gathering pipelines nationwide from 2006 to 2018, year-to-date. That was the second-most among 2,152 operators in the agency's database after Enterprise Crude Pipeline, a carrier of crude oil, which reported 306 incidents. Sunoco also had 175 federal inspections and 35 enforcement actions during the period.
In Pennsylvania, incidents include the leak of 20 barrels of natural gas liquids by the 1930s-era Mariner East 1 line at Morgantown, Berks County, on April 1, 2017, because of "external corrosion."
A spokeswoman for the Pennsylvania Department of Environmental Protection said in an email that the agency tested the air near the explosion on Monday and found "no evidence of gas inside or outside homes."
Written by: Susan Phillips and Reid Frazier StateImpact Pennsylvania
Photo caption: A sign marking the right of way for the Mariner East pipeline in Lebanon County.
Photo by: Marie Cusick/ StateImpact Pennsylvania
Jon Hurdle contributed to this report.