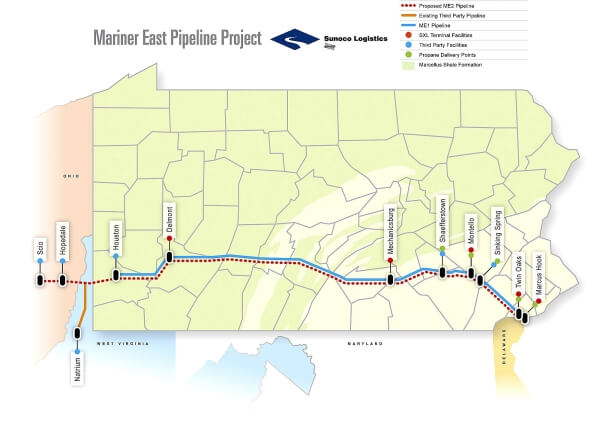 Faherty Law Firm is presenting multiple defenses to the request for eminent domain power by Sunoco Pipeline.
Sunoco Pipeline seeking more property in Mt. Pleasant, Independence and Hopewell townships
By Francesca Sacco, Staff writer, observer-reporter.com
Sunoco Pipeline LP of Pennsylvania has again filed eminent domain documents in Washington County Court, seeking temporary and permanent rights of way on land in three townships and one borough to move natural gas products as a part of its Mariner East project.
This is the fourth time Sunoco Pipeline filed documents regarding land in and around Mt. Pleasant, Independence and Chartiers townships. The most recent filings Friday also seek land in Hopewell Township and West Middletown. If the petitions are granted, Sunoco Pipeline would permanently acquire 11 acres.
The company filed the eminent domain cases against Rodney Lee and Robin Louise Rohrer of 108 Poplar Road, Avella; John Paul Craig, Frank Stewart Craig and Timothy David Craig of 638 Country Road, Avella; Harry Joseph and Patricia Marie Yevins of 136 Fox Road, Avella; Lynn Foltz and Gordon T. Lowry, who live in Canton Township but own land in Hopewell Township; and Edward J. Thomas III and Bonnie W. Thomas of Dairy Road, Mt. Pleasant Township.
Hershey-based attorney Mike Faherty said he's representing all of the landowners in this matter expect Foltz and Lowry, and intends to file objections. Faherty also represents other area landowners in their fight to protect their property against Sunoco. He said that on July 1, visiting Senior Judge William R. Nalitz stopped Sunoco Pipeline's effort to condemn property of Martha J. and Cary Dwayne Cowden, Paradise Hills LLC and Kenneth Lee and Ann Marie Taylor. A hearing has been scheduled for Oct. 14.
Sunoco Pipeline asserted that since 2002, it has been regulated by the state Public Utility Commission as a public utility, a status it said the PUC reaffirmed both last year and this year.
In 2012, Sunoco announced the Mariner East pipeline project for "wet" gas products such as propane, ethane and butane, designed to relieve the oversupply of natural gas liquids in the Marcellus and Utica Shale basins and to alleviate supply-side shortages of propane and related products in parts of Pennsylvania and the Northeast. The finished pipeline would stretch between Washington County and Twin Oaks, Delaware County, in the Philadelphia metropolitan area.
The filings stress the difference between an intrastate project – solely within Pennsylvania – and an interstate project that would cross Pennsylvania's boundaries.
Sunoco Pipeline was unable to reach an agreement with the parties to acquire the easements and has posted bonds totaling $36,000.
A representative from Sunoco Logistics declined to comment.