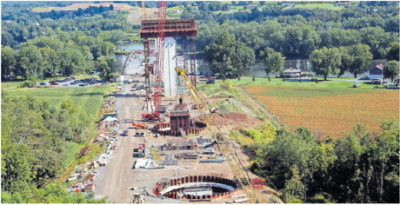 Property owners threatened by the Susquehanna Thruway will be able to learn the status of their property on November 15, 2017 when PennDOT reveals the new route at a public meeting. Faherty Law Firm attorneys will attend the meeting and be available to answer questions.
PennDOT sets new route for Susquehanna thruway
The Pennsylvania Department of Transportation has announced the new alignment it prefers for a 2-mile section on the Central Susquehanna Valley Thruway in Snyder County.
PennDOT was forced to find a new path for part of the U.S. Routes 11/15 bypass of Shamokin Dam and Hummels Wharf after discovering the limited-access highway could not be built over two fly-ash basins.
It studied three alternatives and said it is recommending the route that passes east of the basins.
It has the least impact on homes, farm land and noise levels, it says.
It will require taking seven additional residences, said Matt Beck, assistant plans engineer.
Five other residences already are acquired and will not be needed, he said. Nothing will happen to those properties until the project is completed, he said.
The public will have the opportunity on Wednesday to view the new route and discuss it with design team members at a 6:30 p.m. meeting at the Selinsgrove Middle School.
Final design work on the thruway's southern section between the northern end of the Selinsgrove bypass and the Winfield area has been delayed by the necessity of finding a new route to avoid the ash basins.
The next step will be for PennDOT to obtain environmental approvals, which could take much of 2018, Beck said.
Federal Highway Administration approval will be needed before design work in the area of the ash pits can begin in earnest, he said.
It is anticipated the eastern alignment will take more traffic off local roads because the state Route 61 connector via the Veterans Memorial Bridge into Sunbury will be shorter, Beck said.
Construction is underway on the CSVT northern section, between the Winfield area and state Route 147 north of Montandon, Northumberland County. That section includes a nearly milelong bridge over the West Branch of the Susquehanna River.
The northern section is scheduled for completion in 2021, but PennDOT has not said if it will open it then or wait until the southern section is finished.
It is too early to know if the ash basin issue will push back the scheduled 2024 completion for the entire $670 million 12.4-mile thruway Beck said.
Written by: John Beauge | PennLive
Photo caption: Piers begin to take shape for the 4,500 foot-long bridge that will carry Central Susquehanna Valley Thruway traffic across the West Branch of the Susquehanna River. 2017 PennLive file photo